It's always a good idea to spend some time outdoors, which is especially important as we age. It's easy to fall into the rhythm of our daily routines, and breaking up our standard schedule can be difficult to remember.
Whether you live alone, with family, or in independent or assisted living, it can be easy to forget to make time for the little things. It's important to go out of our way to spend time doing things we enjoy, and there are many activities we can do outside with very little planning or money needed.
Some activities are simple, like going for a hike or spending time taking photos of nature nearby. Others may need a little more planning, like going to a local community festival or planning a family get-together in the area.
If you or a loved one are in need of an assisted living facility that still provides opportunities to get out and about to do the things you love, schedule a tour with Parsons House Cypress today!
Free Outdoor Activities for Seniors
We've put together a list of activities that seniors can engage in for free!
1: Walking & Hiking
Walking or hiking is an excellent way to make sure you can spend some time outside while helping your physical health. As we age and our bodies begin to stiffen up, walking can become more and more beneficial. It's low-stress, it gives you an opportunity to explore the neighborhood, and it keeps you in excellent shape!
Regular exercise helps your muscles and bone density, and it's great for your cardiovascular health. And regularly going for a walk or a hike makes it easy to catch up with your neighbors or plug in some music and enjoy your favorite songs. Whether you're walking in the woods or through your neighborhood, it's never a bad time to put on some shoes and go.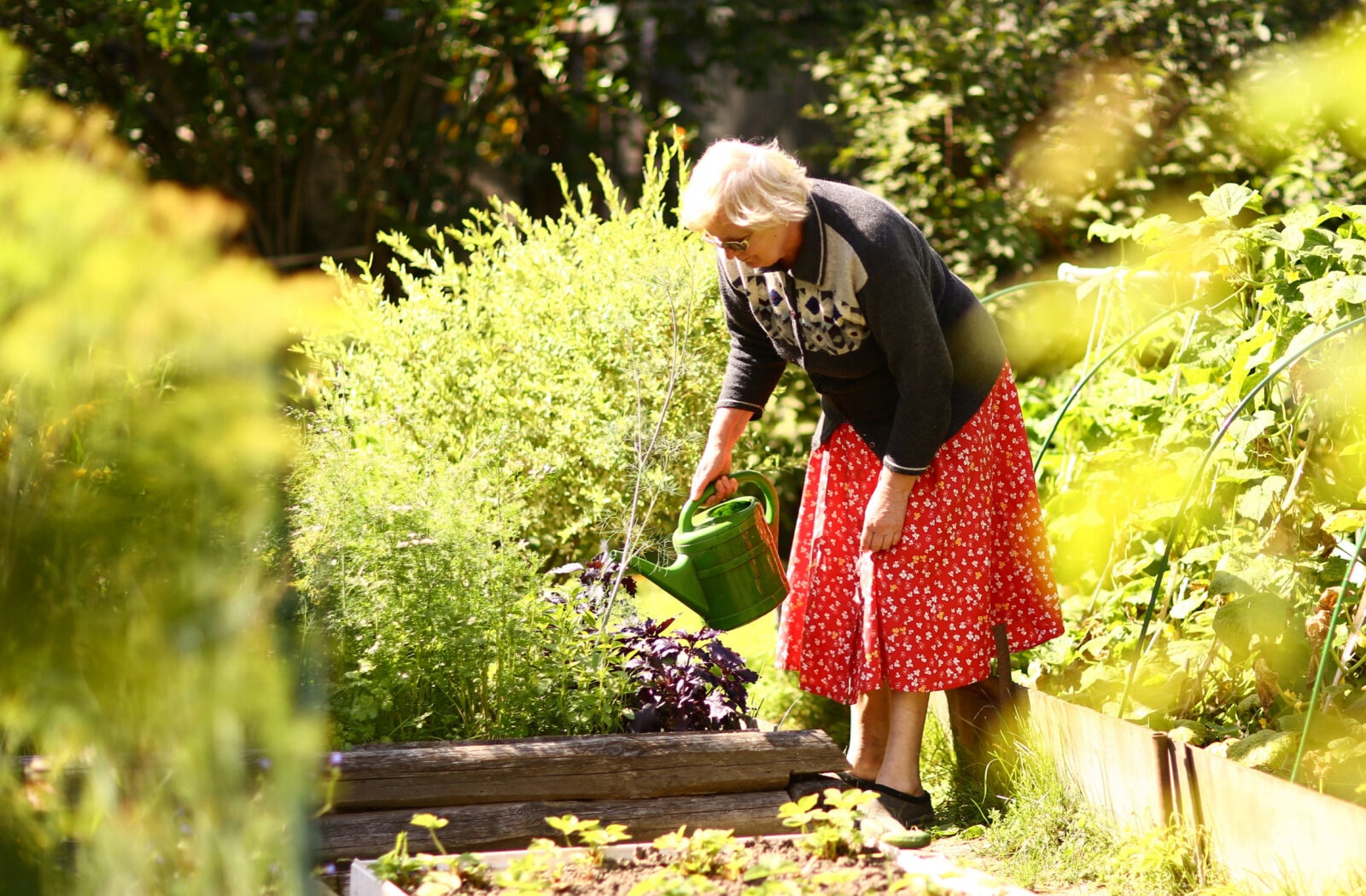 2: Gardening
If you've got a green thumb and want some fresh fruits and vegetables for your table, gardening is an excellent way to spend some time outside. Other than the initial cost of a few seeds, all you really need is some dirt and water (and maybe a few tools!).
Gardening is an excellent way to spend some time outside. If you enjoy socializing with others while you work with your hands, you could look into community or group gardens in your area. These gardens are an excellent way to spend some time chatting with people with similar interests, and you still reap all the benefits of the garden!
3: Photography
If you have a camera or even a cell phone, photography is an excellent way to spend some time outside, and you can do this at literally any time. Whether you're interested in animals, architecture, or plants—anything can be photographed!
You can join photography groups both in-person and online, so you can get ideas from other people and share your photos with people interested in the same things as you.
4: Go Sightseeing
Sometimes, we get so used to our surroundings that we forget to appreciate the beauty of what's around us. If you want a new idea for an outing, try pretending to be a tourist in your area or imagine you're seeing your area for the first time ever. You can look at tours or guided walks around you and learn something while you're at it!
Maybe there's an old building in your town rich with history or a nature conservation area nearby? Take a look around and see what kind of things are nearby, and go investigate. By slowing down and taking a genuine look at what's around you, you might learn something fascinating!
5: Take up a Sport
If you want to be more active or have friends who like to get out and about and stay moving, consider taking up a new sport.
There are all sorts of options available that are low-stress and a great way to spend time outside. Consider:
Golfing
Tossing a frisbee around
Lawn bowling
Outdoor yoga classes
There are a ton of outdoor activities that can keep you moving and enjoy yourself. And all of them can be done with your loved ones!
6: Attend Community Events
Take a look at local bulletin boards or flyers, and see if there are any events coming up. Things like farmer's markets, music festivals, or new groups forming locally — all these are great ways to get out and about, meet some new people, and learn more about what's happening in your community!
7: Plan an Outing With Your Family & Friends
If you're looking for something new to do and want to spend some quality time with your family and friends, ask around and see if anybody is interested in a group outing. Maybe there's a festival in town where you could walk around together or a free day at the zoo. See what people are interested in, and make a point of getting together and going to experience what's happening nearby!
8: Go to the Park
Maybe you've always liked reading, or art, or spending some time working on a project at home. Try taking your newest novel to the park and spending some time sitting there or bringing a canvas with you outside to paint. By changing it up and getting to spend some time outdoors, you'll still be able to enjoy your hobbies and maybe even find some new inspiration!
9: Head to the Beach
If you find you'd like to get some sun or go swimming, heading to a local beach can be a great way to change up your routine. Go relax and sunbathe, or take a dip in the water!
10: Whatever You'd Like!
It's extremely important to take care of yourself, both physically and mentally. Spending time outside is always a good idea, and there are all sorts of different activities available no matter where you are. And if you're stuck for ideas on what to do, make something up!
Call up your loved ones for a barbecue, or go take a stroll through a part of the neighborhood you haven't visited in a while. Taking a look at getting some lawn games, going and visiting a neighbor, walking a friend's pet, or any other activity can do absolute wonders for your physical and mental health. And as we age, this gets more important than ever.
Make the Most of Life
If you live in assisted living and want to spend more time outside, consider looking at some of the programs and amenities offered by your community. If you're in or around the Cypress area and in need of an assisted living community that has plenty of options for outdoor fun, reach out to Parsons Home Cypress to schedule a tour and see what options are available to you!