When you're no longer going to work every day and facing more time on your hands than you've had in years, how do you fill it? And if you struggle with limited mobility, what options do you have for entertainment?
There are always activities available even if you struggle with limited mobility. Some of these could be indoors, like learning a new language or taking up a new instrument. Others could take you outside, like going to a new restaurant or visiting a friend for a social hour.
Whether you live in assisted living, independent living, or on your own, there are always ways to spend your time that bring you happiness. It's also worth looking around your community to see what programs and services are available for residents, like the ones offered here at Parsons House Cypress!
So what activities can you do if you struggle with limited mobility?
1. Creative Arts & Crafts
Though it may seem simple, trying to learn a new craft or taking up a new art project can be a wonderful way to spend your time. There are so many different kinds of artwork available! You could try something like:
Painting
Knitting
Needlework
Pottery
Sewing
Scrapbooking
And so much more. If you struggle for inspiration, you could look into making gifts for the people in your life. A handcrafted gift from a person you love can make all the difference in someone's day!
2. Learn a New Instrument
We all have a favorite song or an instrument we love the sound of. And with today's access to all kinds of different music stores (both in-person and online!), it's never been easier to find a new instrument and give it a try. Find a video online or see if anybody you know is interested in taking a class. Even if you're struggling with limited mobility, there's something for everybody. From the violin to the guitar, from the bongos to the harmonica, you can find something that's fun to play and brightens up your day!
Learning a new instrument is also a great way to challenge your brain, both creatively and cognitively. By learning new patterns and muscle memory, the benefits are endless!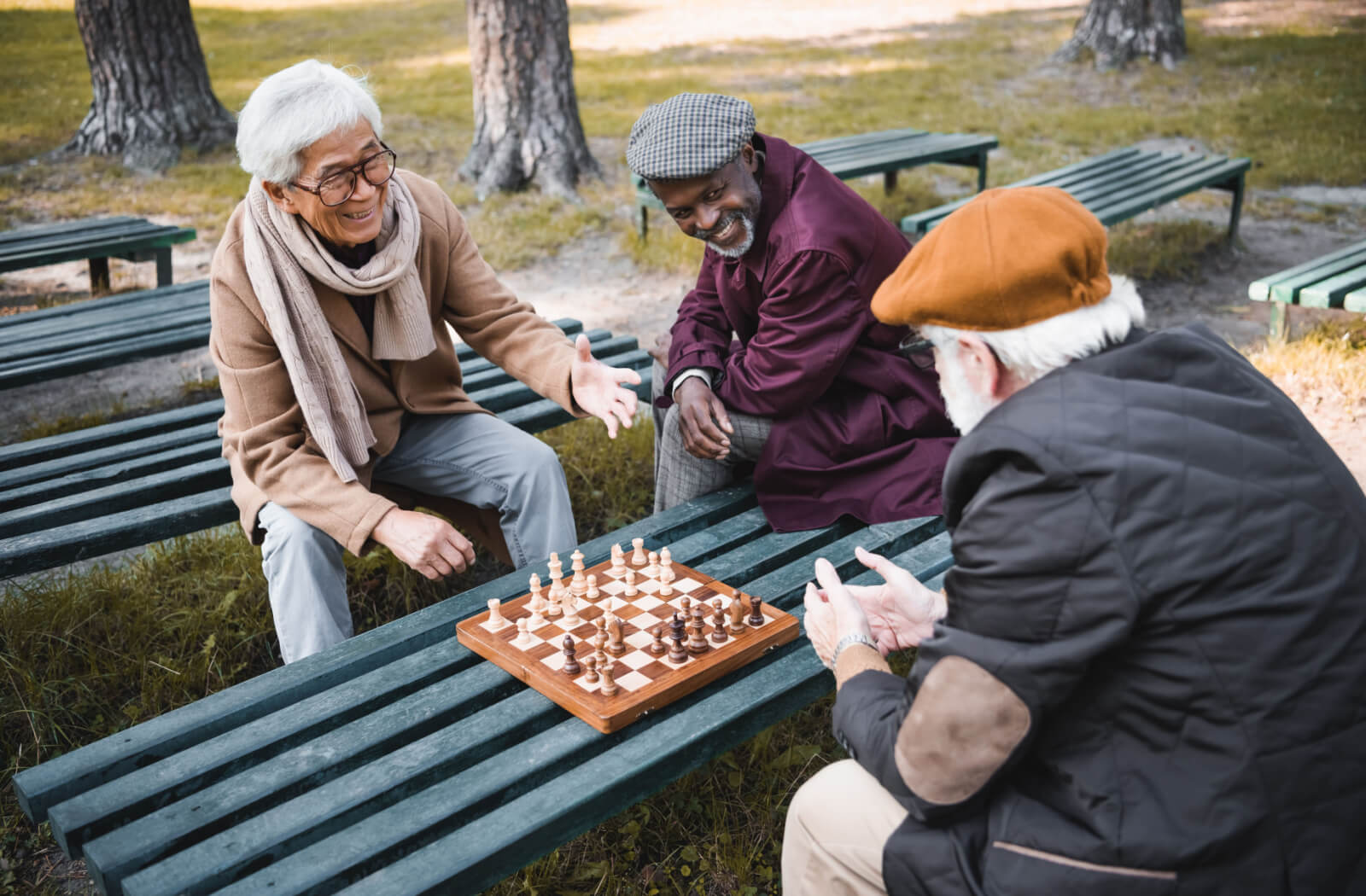 3. Board Game Nights
Board games never go out of style, and with the number of different options today, there's never been a better time to try a new one. There are games for beginners or folks who prefer an easier time, like those here:
Chess
Checkers
Carcassonne
Scrabble
Dominoes
If you prefer cards, you can always try one of the following card games:
Solitaire
Crazy 8s
Poker
Cribbage
Bridge
4. Social Hours
Sometimes, you just want to chat with a friend over a cup of coffee. Whether you live on your own or in an assisted living community, try reaching out to a friend or family member and invite them to come by. Quality time with the people we love gives us an excuse to share stories and have a good laugh and provides quite a few benefits for mental health as well!
5. Spend Time Outside
The sun on your face, the wind on your skin—there's no substitute for that. Sometimes, it really is a good idea to stop and smell the roses. Try taking a walk in a nearby garden or going and sitting by the water. A nice trip, even just around the block, can do wonders for the mood.
If you have difficulty getting around by yourself and live in assisted living, reach out to the team around you and mention you'd like to get outside more. One of the team members will be able to help you out!
6. Chair Yoga
Chair yoga is an excellent option for a person struggling with mobility or in need of a bit of extra support. It focuses on using a chair for support while helping with flexibility and balance. It gives you the opportunity to challenge yourself and relax. Ask around and see if there's a class offered near you!
7. Enjoy a New Show or Movie
Whether you like old Westerns or musicals, fantasy movies or dramas, detectives or comedies, there are literally endless possibilities for screen entertainment nowadays. Sometimes it's a good idea to change it up and try something new! You never know if your new favorite movie could be right around the corner. Grab some popcorn, and maybe invite a friend to join and press play!
8. Learn a New Language
Maybe your family immigrated generations back and switched to a new language. Maybe you have a friend who speaks French, and you want to surprise them. Maybe you're just interested in being able to communicate with other people of a different background than yourself. No matter the circumstance, it can be beneficial to learn a new language.
There are apps nowadays that can act as a virtual class. If you know somebody who speaks a language you're interested in, try asking them to teach you a few phrases here or there. It can help you bond with a friend or feel closer to your roots. Not to mention that learning a new language challenges your brain in all sorts of new ways!
9. Take a Cooking Class
Have you ever seen a show and wanted to know what a certain meal tasted like or seen an ad online for a recipe that looked incredible? Taking a cooking class, whether online or in person, can be an excellent way to change up the diet and try new things. It can teach you to improve dishes you love to make or show you ways to combine ingredients you may never have thought of!
It also can expose you to the ways different cultures use ingredients or put dishes together and give you all sorts of ideas for the future. Not to mention, it's delicious!
10. Bonding Time
At the end of the day, we all crave connection with the people around us. By slowing down and including someone around you in any of these activities, or any you think of yourself, you'll be able to spend quality time with the people in your life.
There's no substitute for bonding time with people you care about. Even something as simple as calling a loved one can bring a nice bit of brightness to your day, and it'll make the other person smile to know you're thinking of them.
Quality Senior Living with Parsons House Cypress
Whether you live in assisted living, independent living, or on your own, limited mobility doesn't mean you can't still find and pursue fun activities to spend your time. Try reaching out to the people in the community around you and see what programs and services are available—you never know when you might find your next favorite thing!Here at Parsons House Cypress, we focus on making sure each and every resident feels like they're part of a community, and we make sure every resident feels heard and accommodated. Schedule a tour with us today to see for yourself!