Caring for a senior parent who can't walk can be extremely challenging. It can be difficult to see our parents struggling, especially when they should be celebrating their lives. Mobility problems and chronic pain can have a significant impact on your parent's life—but there is good news!
You can support a parent who can't walk with the following methods:
Provide emotional support
Create a safe environment
Think about assistive devices
Remember the importance of physical exercise
Seek professional care when necessary
For some older parents, moving to a senior living community may be helpful. Many senior living communities offer a variety of support for senior adults with different lifestyles so both adult children and their parents can focus on celebrating life together.
Provide Emotional Support
When you're caring for a senior parent who can't walk, there's an important place to start: understanding the challenges they face and giving them emotional support.
It can be tough not being able to walk after decades of it being simple, and your parent may need some time to adjust. Make sure that you spend some time with them to properly understand the challenges they face every day.
Whether it's difficult to go up and down the stairs, or they find it difficult to complete routine tasks like getting their own groceries, taking the time to truly understand your parent's challenges can help you make a proper plan to provide the support they need. And don't forget to offer emotional support!
Spend some time with them, chat about their day, and listen to what they have to say. Make sure you're actively listening too! This can show your parent that you genuinely care about their quality of life, and that can make a big difference.
Create a Safe Environment
When you know what your parent needs, you can create a plan to provide extra support. Start in their home. Many accidents happen at home, after all, and when mobility is a problem, your parent could be at risk.
Start by keeping common areas clean and tidy, and make sure there's nothing obstructing common walkways. After all, it can be easier to get around when there aren't obstacles in the way. If there are any rugs or mats that aren't secured in some way, think about moving them—they can be a huge tripping hazard.
Next, think about home modifications. Making home modifications in specific areas can provide benefits for your parent and yourself. Here are some modifications you might consider:
Installing handrails or grab bars
Adding ramps at entrances
Using non-slip mats in the bathroom
Lowering countertops and shelves for easy access (if possible)
Installing a lift for the stairs to make it easier to move between different levels of a home
Installing motion sensor lights for increased visibility, especially at night
Reorganizing rooms and furniture to create clear pathways for easy navigation
It can even help to think about installing a medical alert system with easy-to-reach buttons so your parent can get emergency help if you aren't around.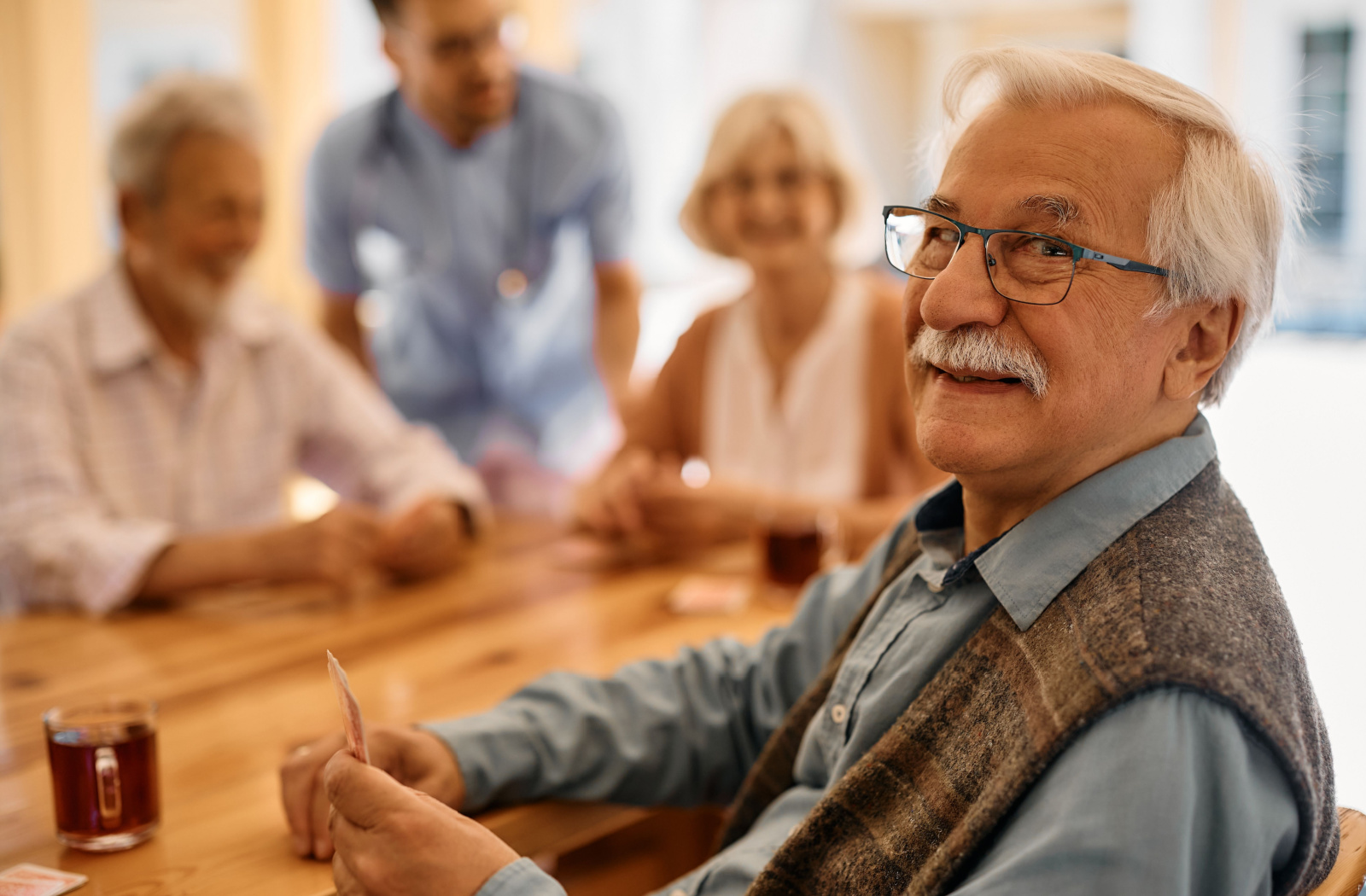 Think About Assistive Devices
Assistive devices can really make a big difference when it comes to caring for a senior parent who can't walk. These devices are designed to help with mobility and independence and can make everyday tasks easier and safer for your loved one.
Some of the options for mobility assistance devices include:
Wheelchairs
Mobility scooters
Canes and walkers
Lift chairs
Stairlifts
Shower chairs and benches
These can make it easier for your parent to navigate their environment and help reduce the risk of them falling and hurting themselves. Not to mention—it can bring them a sense of independence.
Remember the Importance of Physical Exercise
Physical activity is crucial for everyone, including our senior loved ones. And just because they can't walk doesn't mean they should skip exercise. Exercise helps keep older adults healthy in several ways and can improve their mood. In fact, seniors should be getting at least 150 minutes of moderate or low-intensive exercise every week.
Here are some exercises tailored for those who experience mobility challenges:
Seated marching: This exercise can improve lower body strength and balance. While seated, march your feet up and down, just as you do while marching standing up.
Ankle rotations: This can improve ankle flexibility and the ability to perform other exercises. While seated, rotate your ankles clockwise and then counter-clockwise.
Arm curls: This can improve upper body strength. With weights in your hands, bend your elbows so your hands are moving towards your shoulders, then lower them back down.
Seated knee extensions: This can strengthen leg muscles. While seated, extend one leg out in front of you and hold it for a few seconds. Lower it back down and repeat with the other leg.
In some cases, it may be helpful to try water aerobics, as water can take a lot of weight off of joints. Water exercises can be extremely ideal for some seniors struggling with mobility problems. Remember to consult a healthcare professional before starting any new exercise regimen.
Consider Professional Care
Caring for an elderly parent can be a full-time job, and it's okay to ask for help. Professional caregivers and senior living communities can provide the support you and your parent may need, giving you peace of mind and letting you focus on enjoying life together.
At Parsons House Cypress, we want to make a difference in the lives of seniors and their families. We're committed to providing compassionate, professional care for our residents, and we're here to help make this journey a little easier for everyone involved. Book a tour with us today to learn more!